Alma Lopez is a renowned Mexican-born Chicana artist. Lopez is a lecturer at the University of California Los Angeles in the Department of Chicana/o Studies.
The print depicts generations of migrant women workers who contributed significantly to the prosperity of California that we know today. In the United States, low-wage industries, such as the garment industry, employ thousand of migrant women workers in the absence of living wage and abusive working conditions. Looming in the background is the map of the 1848 Treaty of Guadalupe Hidalgo, Manifest Destiny, and a border patrol car pursuing a mysterious person. These images raise questions of nationality, belonging, and citizenship.
---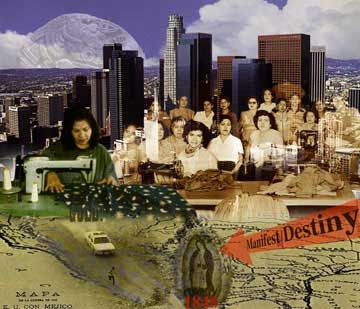 Alma Lopez, California Fashions Slaves, 1997, digital print.